When it comes to the best assisted opening knives Kershaw is no doubt king! They have a plethora of models to choose from, and they use Ken Onion's patented SpeedSafe technology. But, are they the best assisted opening knives available?
First off, let's discuss what assisted opening means. Some may refer to them as automatic knives or switchblades, but this isn't the case. Rather than just pushing a button to deploy the blade you need to first get the blade started to open.
Once the blade is partially opened that's when the magic happens and the blade is quickly flipped open.
How Do The Best Assisted Opening Knives Work?
Kershaw SpeedSafe knives use what they call a torsion bar, this bar does a couple things for you. When the blade it closed it applies downward pressure to keep it closed, preventing any type of accidental opening. When enough pressure is applied to the thumb stud to open the blade, the bar slides along a track in the handle to assist you to open the knife.
Many consider the SpeedSafe technology superior to others and therefore deem Kershaw and Zero Tolerance to have the best assisted opening knives on the market. This is of course a matter of opinion, it is true, I wouldn't go that far. I happen to like them, it's highly functional, but I'm not saying it's the best.
SOG Knives use their own assisted opening technology. They use coil springs that basically oppose each other. One spring applies force to keep the blade closed and the other applies opposite force to open the blade. When enough pressure is applied the opening spring overcomes the opposing springs force and instantly flips the blade open.
Benchmade also uses the benefits of coil springs on their assisted opening knives. The spring action takes place when the blade is opened to a certain point. This is of course after the AXIS lock is disengaged, the AXIS lock also uses a spring to keep the blade closed. Benchmade calls it a "suck-back" that applies force to keep the blade closed.
So while Benchmade and SOG both use coil springs, they are used quite differently in their best assisted opening knives.
Recommended Assisted Opening Knives
Now that we know a little bit of the technology used in assisted opening knives, let's check out some of the best assisted opening knives you can buy today.
Kershaw Clash
Check at Amazon
The Kershaw Clash is just one of many Kershaw knives that has SpeedSafe assisted opening.
It's really hard to narrow down the best assisted opening knife Kershaw offers for that reason, there are just too many to choose from.
Ultimately I feel like the Clash is a great choice for a couple reasons. First off the handle is super comfortable and the drop point blade shape is incredibly useful. This blade shape has a good belly on it and provides for a larger cutting edge.
The blade steel is 8Cr13MoV, this is a really popular steel in this type of budget knife. It has a few pros and cons. It's easy to sharpen and can get really sharp, however it's edge retention is not great so it won't hold an edge for a super long time.
Another feature you might love, the Clash is actually a flipper knife, this is a portion of the blade that sticks up above the back of the knife. You can use your index finger to quickly deploy the blade. It simple, yet highly functional.
Personally I love flipper knives and think they benefit most from assisted opening. The best assisted opening knives I've ever used all had flippers.
SOG Flash I & II
Check at Amazon
The SOG Flash 1 & 2 are both the best assisted opening knives SOG offers. Deployment is super quick with SOG assisted technology.
It has a deep style pocket clip so it tucks nicely away into your pocket when not in use.
Depending on size preferences, either Flash model is a good choice. To compare, the Flash 1 blade length is 2.5" while the Flash 2 is 3.5". From an EDC perspective the Flash 1 would be more EDC friendly size wise.
They both utilize AUS-8 blade steel, SOG utilizes this blade steel in many of their knives. It's a Japanese steel and tends to be a little better quality than some steels from China. I like the AUS-8 because it holds an edge nicely once you get it sharp.
The handle is glass reinforced nylon and is quite grippy with the molded texture. One downside about the Flash is the safety lock, it can be a little cumbersome to manipulate at first.
Gerber Instant
Check at Amazon
Gerber's assisted opening technology is call F.A.S.T (forward action spring technology) and it works pretty well. The blade snaps open and locks into place with a plunge lock.
The blade is 3.3" long and partially serrated to help cut through tougher materials. The drop point has a good belly with plenty of cutting edge.
The G10 handle has nice texture with gimping on the top for a secure grip. The pocket clip is limited for a tip down carry, kind of a bummer if you prefer tip up.
Over all, the Instant with its many features make this knife on the best assisted opening knives Gerber offers.
Kershaw Blur
Check at Amazon
The Blur is designed by the man himself, Ken Onion. Yeah the same guy who developed the SpeedSafe technology.
The Blur's handle is made from anodized aluminum and has trac-tec inserts to supply ample grip. Trac-Tec inserts feel like grip tape, kind of rough but they prevent any kind of accidental slips.
The blade in this particular model is Sandvik 14C28N and is 3.4". The Blur is offered with better steel options, but in this case the Sandvik is a budget steel so this model is a great price.
The pocket clip is reversible, so you can carry tip up or tip down, whichever you prefer. The Bur is only 3.9 ounces, so it's perfect for EDC and no doubt one of the best assisted opening knives made. Its also Made in the USA!
SOG Twitch II

Check at Amazon
The Sog Twitch II has a very simple look to it, and I'm ok with that. I look at this knife as a gentleman's folder. Simple lines with the satin polished AUS-8 blade make it a good looking knife.
The AUS-8 blade is 2.6 inches with a straight-edge. AUS-8 is regularly used in SOG knives and they have been able to heat treat this steel to get the best out of it. While it's certainly not a premium steel, AUS-8 will hold an edge for a decent time and can be easily sharpened.
Zero Tolerance 0770
Check at Amazon
Zero Tolerance knives are a brand of Kai USA, same as Kershaw. You'll find that the Zero Tolerance brand is much more expensive than that of Kershaw. However, there is some shared technology in these 2 brands, one being the SpeedSafe assisted opening mechanism.
In this price range, this is one of the few Zero Tolerance knives with Speedsafe that exists. The 0770 was a limited edition run and has Elmax blade steel. Elmax is a very good blade steel and offers superior edge retention.
The handle is aluminum and has a great ergonomic shape. It fits comfortably in your hands for long repeated uses. The blade shape is drop point and is a little over 3 inches long.
The pocket clip is left or right hand reversible with a tip up carry. Along with the spring assist the 0770 also utilizes a flipper, quick flip of index finger and the blade is open.
Kizer Gingrich Ki4448
Check at Amazon
The Ki4448 is designed by Justin Gingrich, who builds custom and production knives himself but also designs for many different companies as well.
This particular knife has G10 scales with titanium liners. This is a solid knife and feels that way in your hand. The texture on the G10 feels nice and ensures a secure grip.
The blade is S35VN, which is very similar to the popular S30V blade steel. They both offer superb edge retention and corrosion resistance.
Another nice feature on this knife is the window breaker on the pommel of the handle. If you are first responder this could be a nice feature to have on your pocket knife in an emergency.
The Kizer assist utilizes springs along with a flipper to quickly deploy the drop point blade. The blade has a gray finish, hollow grind with a long plain edge.
I must say, I really like the looks of this knife. Not only is it sexy, but it's one the best assisted opening knives on this list.
SOG Zoom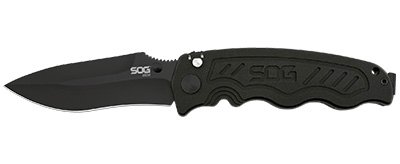 Check at Amazon
The SOG Zoom is all black tactical style pocket knife. The anodized aluminum handle is 4.7" long and has 4 finger grooves. This knife would be a good choice for people with large hands.
The blade steel is SOG's standard AUS-8 and it's coated with a black finish. As previously discussed, the AUS-8 steel is very easy to sharpen, but lacks in edge retention.
The knife is spring assisted and has a very quick action, to close the blade there is a push button release. There is also a lock to keep the blade closed if you choose to utilize it.
One other nice feature of this knife is the pocket clip. May not sound like an exciting feature, but I think you'll appreciate the deep carry that allows you to discreetly carry this knife in your pocket.
Benchmade Mini Barrage 585
Check at Amazon
The Benchmade 585 was designed by Warren Osborne and built by Benchmade in its Oregon based factory. If you prefer to buy American then this might be one of the best assisted opening knives for you.
A few features of interest would of course be the AXIS assist to quickly open the blade, but it also has a safety lock. This lock keeps the blade closed until disengages. This is a handy feature for anybody who may have young kids in the house.
Locks maybe not be that glamorous of a feature on a knife, but they are still important nonetheless. The AXIS lock is incredibly strong when the blade is open and simple to disengage when ready to close. It's well engineered locking system and works perfectly.
The handle is made from Valox, which is a very strong polymer resin that is able to be shaped into many forms. This material is strong and has excellent strength. The pocket clip can be reversed for left or right hand carry with the tip up.
Zero Tolerance 0350BW
Check at Amazon
A Ken Onion designed flipper knife, the ZT 0350 is made in the USA and it is just badass. This is one beast of a knife.
The blade is a 3.25" long and has a blackwash finish, but most impressive on this blade the large recurve. The recurve, or sometimes referred to as belly is good for slicing.
The blade steel is S30V, which can easily resist corrosion and hold a sharp edge for a very long time. S30V steel is generally reserved for high end knives, like the ZT 0350!
The handle is G10 with a nice texture for grip, the back-spacer is also G10. It has stainless steel liners with a liner lock that is very solid. With the blade open the flipper acts as a finger guard and feels comfortable in your hand.
The pocket clip is drilled for quad mount, meaning you can carry tip-up or tip-down and left or right handed. The overall weight on this knife is 5.8 ounces, so it looks and feels nice and sturdy, certainly could be an intimidating knife to the unaware.
Conclusion
Whether you have a budget small or large, there are many choices for the best assisted opening knives. The Kershaw Blur is certainly a favorite of mine and a fantastic choice.
If you prefer simplistic designs is an excellent choice for an assisted opener and is considered by some to be the best pocket knife Kershaw as made.
If you have a larger budget the Zero Tolerance 0770 is a top choice for blade steel alone. Elmax is certainly a premium blade steel with superior edge retention compared to the other knives.
Whichever you choose, these are all some of the best assisted opening pocket knives you can buy. You really can't lose picking any of them.