Cold Steel Inc. was founded in 1980, and over the last 3 decades Cold Steel knives have proven to be some of the strongest and sharpest knives in the world.
Responsible for innovations like the checked Kraton handles, and their tanto point blade styles, Cold steel continues to be at the forefront of the knife industry.
Cold Steel is a widely popular brand known predominantly for their combat and tactical style fixed blade knives, but they also carry an assortment of folding knives. The patented Tri-Ad locking mechanism that Cold Steel employs on all their folding knives make them just as strong as their fixed blade lineup.
Talwar Series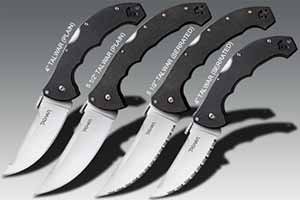 The Talwar Series folding knives from Cold Steel draw their name from the Indo-Persian sword called the Talwar. Designed by Andrew Demkco and Cold Steel President Lynn C. Thompson, its razor sharp broad, curved blade was the inspiration for the Talwar Series folding knife.
The Talwar folding knife is available in a 4″ blade and a 5.5″ blade, both have plain or serrated edge blade options.
The 4″ Talwar is the more reasonable option for an EDC folding knife, weighing 5oz. with an overall length of 9.25″. While still a bit on the heavy side for EDC, it can be done without much issue at all. The larger 5.5″ Talwar has an overall length of 12.75″ and weighs 8.4oz, making this knife to large and heavy for an EDC in my opinion.
The Japanese AUS 8A Stainless steel is very good steel. It is not a high end steel like 154CM or S30V, but not far off. Its in the same class as a 440C or other standard steels. The AUS8 is the ultimate compromise, with the high carbon and low chromium count it makes for a great edge holding knife with a high resistance to corrosion. The ambidextrous finger plate make blade deployment very easy, I'd like it better if there was some spring assisted feature but it gets the job done easily, that's just a wishlist item for future models on my part.
Handle material is G-10, which I really like. The grip is outstanding and the finger grooves offer great comfort and safety while in use. The textured G-10 is tough, and grippy, and withstands the elements. It will not shrink or expand in wet, dry, cold or humid conditions. Its just an awesome handle material. The Tri-Ad locking mechanism is the strongest around, giving the user great confidence while putting the knife through its paces. The pocket clip offers a deep carry, also giving you the option to clip onto your belt.
Overall the Talwar series folding knives are pretty great, they offer multiple sizes and blade edge options. If you are looking for an EDC pocket knife, I'd recommend the Talwar 4-Inch, if you want the big boy, give the 5.5″ a shot.
Pocket Bushman
When Cold Steel designed the Pocket Bushman, simplicity was the key. This knife has a great design, its simple, practical and stands out as a folding hunting knife.
To be called the "Pocket" Bushman, this knife is big. Its just over 10 inches long overall and weighs 6.1 ounces. So its on the edge for me to be called an EDC. However, that doesn't take away the fact this is a great knife. This knife is about as close to a fixed blade as you can get with a folding knife. The locking mechanism is stout, almost too stout some would say. It's a 2 handed open and close for most people.
The all metal construction is the reason for the weight, the handle is made from 420 stainless steel and is 5 3/4″ long. It has a nice bead blast finish giving it the stonewash look. It's strong and durable, but can get a bit slippery in wet conditions.
The blade is enourmous, its long and wide with a short clip point. Made from German 4116 Stainless steel it comes in at 4.5 inches long. The blade has a hollow grind from top to bottom and has enough belly to be useful for many tasks. The 4116 blade material is ok, I'd compare it to a 420/440A class, takes a edge easy but may dull a little quicker than you would like.
Overall this is a great folding knife, a little on the heavy side for an EDC. But if you like big folding knives this is definitely the one for you. The best part about this knife is the price, at around $25 this is an excellent quality knife for the price tag. So I'd say give it a shot.
AK-47 Series
The AK-47 assault rifle has been known as an incredibly reliable weapon, its simple to operate and highly effective at reasonable ranges. This weapon was the inspiration for the Cold Steel AK-47 series pocket knife, seemingly possessing all the attributes of its namesake.
The AK-47 pocket knives are built for hard and rugged use and available in two sizes. Both having a G-10 handle they are incredibly tough and offer high gripping abilities. The pommel is made from 6061 aluminum, designed to be a less than lethal striking tool in a self defense situation.
The blades are made from Japanese AUS 8 steel, hollow ground blades honed by hand. Capable of razor sharp edges, they have been vacuum heat-treated and quenched in sub-zero temps to make them incredibly tough blades. Coated with black Tuff-Ex to resist corrosion and improve edge retention. Equipped with a Tri-Ad lock, these blades are locked back solid when deployed.
The ambidextrous pocket clip assures you can have easy access, the thumb plate is designed to be able to snag the plate on your pocket to open the knife. This would take some practice to get the process down, but would be highly effective if mastered in a self defense situation. The thumb plate can also act as a convention thumb stud would, to allow the easy one handed opening, similar to the Kershaw Blur.
Coming in either 3.5″ or 2.75″ blade lengths, the AK and the mini AK are both great EDC options. The larger AK is 5.5 ounces and could be percieved on the heavy side for an EDC, however the mini is significantly lighter at just 2.9oz and rivals the Spyderco Delica4 weight wise.
If you like the Cold Steel brand and are looking for an EDC, the Mini AK-47 is a top chioce and should be considered in your decision.
Final Thoughts on Cold Steel Knives
Cold Steel is a major player in the knife industry, and makes some excellent pocket knives. Cold Steel knives are known for their tactical line of knives so if tactical is what you are looking for, Cold Steel knives are a great choice.