Review of: Benchmade Griptilian
Use: Everyday Carry
Blade Steel
154CM steel is good for general and moderately easy to sharpen
Handle Material
Noryl GTX handle has plenty of grip and multiple color options
Price
Very reasonably priced everyday carry knife
Rating
Absolute favorite among users, many 5 star reviews
We Like
Perfect size and weight for an everyday carry pocket knife
Many blade and handle finish and color options
We Don't Like
Single tip-up posistion carry option
Noryl handle kind of feels like plastic
Quick Summary: The Griptilian is a blue class working man's pocket knife, designed for everyday carry. From the blade steel to the handle it can stand the test of time. Edge retention is great and stability is second to none.
The Benchmade Knife Company has three different classes of knives: Gold Class, Blue Class, and Black Class. The Gold Class is primarily limited edition knives and the Black Class tends to be knives used in life and death situations. Benchmade's 551 Griptilian is part of their Blue Class. Blue Class knives are high-quality knives used in every day situations.
Based in Clackamas, Oregon Benchmade knives are American-made. They pride themselves on the three M's: materials, mechanisms, and manufacturing. With excellent customer service they live by "Make it Cool, Make it Solid, Make it Happen, and definitely make it Benchmade!"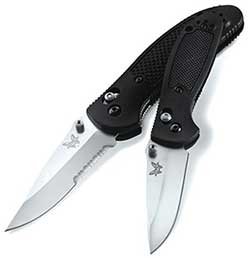 Key Specs:
Blade Length: 3.45 inches
Blade Thickness: 0.114 inches
Blade Hardness: 58-60HRC
Blade Steel: 154CM Stainless
Blade Style: Drop Point
Handle: Noryl GTX
Weight: 3.82 oz
Closed Length: 4.62 inches
Overall Length: 8.07 inches
Griptilian Blade
The blade is made with 154CM Stainless Steel. This grade of steel is known for its toughness, corrosion resistance, and edge quality. The blade also has a modified drop-point with ambidextrous thumb studs.
The drop-point blade causes the blade tip to be stronger, but it also reduces the point for control. Drop-point blades are excellent for hunting knives due to having plenty of belly for slicing.
Handle and Ergonomics
The handle comes with a steel pocket clip and is designed for tip-up carry, which could be of some concern for individuals that prefer to carry their knives tip-down. It comes from the factory positioned on the right side, but can easily be re-positioned on the left side with a "Torx" driver if preferred.
Benchmade's patented AXIS locking system is completely different from other brands, such as Kershaw or Spyderco, and is a significant step forward over the liner lock and lock back systems for reliability and strength.
It employs a spring loaded bar which locks the ramped tang when the blade is deployed preventing it from inadvertently closing. It is a completely ambidextrous design. This locking system is available in manual assist or automatic configurations.
The black handle option is made with Noryl GTX, which is known for being impact resistant, chemical resistant, and heat resistant. Other handle color options are made with Grivory.
Grivory is composed of nylon copolymer and has exceptional dimensional stability. The 551 Griptilian does not come with a sheath, but you always have the option to buy one separately if you prefer not to use the pocket clip.
Benchmade Griptilian Options
The 551 Griptilian has several different options available in varying price ranges and can impact the overall cost of your knife significantly, so you should know your target price point when you begin selecting the options for your purchase.
You can choose between a plain edge blade and a ComboEdge blade, also known as partially serrated. There are also different options for the blade finish: satin, BK, various BK1 options, and X15 Corrosion Resistant.
There are even different handle colors: black, orange, sand, olive drab, and even a red handle for the trainer blade.
When purchasing your knife through the Benchmade website, they offer customization on most, but not all of their knives, through their laser marking service.
Customization can be done anywhere on the blade or handle of the knife. You have the option of including a logo, text, and/or a full pattern.
Text costs around $5 per knife and logos, patterns, and images cost a little more at $25 per knife and can add a special touch whether you're looking for a gift to mark an occasion for someone else or just wanting to personalize your knife with your own brand.
Benchmade Warranty
​When purchasing a Benchmade knife from an authorized dealer, you can be confident that you are getting a quality product since all of their knives are backed by their Benchmade Lifetime Warranty.
If Benchmade determines that a knife is defective when sent in for warranty services, they will either repair or replace the knife at no charge.
Broken tips are typically not covered and can be fixed for $30.00 or $40.00 depending on if the blade is made of a satin or black finish.
Griptilian Best Prices
The price varies depending on the different options you choose. The Benchmade website has their 551 Griptilian ranging from $115 to $150 depending on the type you are looking for. However Amazon has the black handle non-serrated or ComboEdge knife both available just slightly cheaper at $97.75.
For the record, I will always check Amazon's prices before I check anywhere else. They tend to always have the best deals on pocket knives.
See More Reviews and Best Prices for the Benchmade Griptilian