The Kershaw Skyline is so slim and lightweight that it is perfect for an every-day-carry knife. It is actually one of Kershaw's most popular knives, in a line of very popular choices. It has a great sized blade that comes impressively sharp out of the box.
It's sleek design, list of safety features, and affordable price make it easy to see why this Kershaw, which is manufactured right here in the United States, gets consistently strong reviews from its owners.
Key Specs of the Kershaw Skyline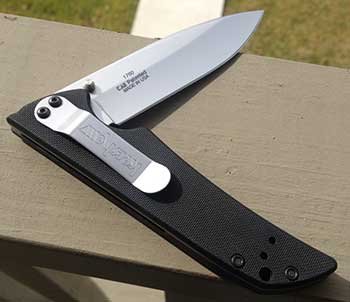 Blade Length: 3.1 inches
Closed Length: 4.25 inches
Overall Length: 7.4 inches
Weight: 2.5 ounces
Handle: Textured G-10
Blade Steel: Sandvik 14C28N
Our Impression of the Kershaw Skyline
Previous knives used the Sandvik 13C26 steel blade, which tended to rust, but Kershaw has since switched to a new type of steel that is more rust resistant.
The Kershaw Skyline is now made with a corrosion-resistant, razor sharp Sandvik 14C28N steel blade with a bead blasted finish.
The use of this new steel ensures a blade with plenty of hardness, an excellent edge and more resistance to rust and corrosion. Of course, common sense and proper maintenance go a long way in keeping your blade in great condition for years.
The Skyline comes with a liner lock feature which locks the knife's blade during use by having one side of the liner move behind the blade to securely lock it open.
This liner lock feature keeps the knife lightweight. It also keeps the blade sturdy without causing blade play.
The Skyline boasts a hollow ground blade so the surface is slightly concave and it has a drop-point design. The blade also has a thin tip and is easy to sharpen yourself.
The cutting edge is as long as the blade itself, which is better than most knives. It has smooth and round edges.

Skyline Handle and Ergonomics
This knife has a medium traction G10 scaled handle that comes standard in black, however custom colors are available. With deep finger grooves to help the user grip the knife, accidental slips are not a worry.
The thumb studs do not really help when opening the knife because they are difficult to use, but they do help with stopping the blade, which is their intended use.
The ineffectiveness of the thumb studs to open the knife is easily overlooked due to the flipper design of the Skyline. The flipper is easy to use and a very quick way to deploy the knife blade.
Here is a quick video showing how effective the flipper is on the Kershaw Skyline.
Pocket Clip Options
The Kershaw Skyline knife has a removable pocket clip that is strong and unobtrusive; although some have said that it fits too tightly on the knife. This can also be seen as a positive feature in that it keeps your knife secure until you decide to bring it out.
The clip can be reversed very easily with a "Torx" screwdriver, allowing the user to carry the knife either tip-up or tip-down.
It is worth noting that the clip is a little less convenient for left-handed people as it is designed to be used in the right pocket and the predrilled holes are only on the one side of the handle.
Using the tip-down approach allows the knife to fit further down in the user's pocket helping to prevent it from getting caught on things or accidentally losing it, but the choice is truly one of personal preference.
It should also be noted that this is not an assisted-opening knife. If you are looking for a knife with a mechanical assist, such as SpeedSafe, you may want to look at buying another knife, such as the Kersahw Blur or the Leek. Both of these pocket knives offer the SpeedSafe feature.
Kershaw Warranty
Kershaw knives come with a Limited Lifetime Warranty for the original owner to protect against manufacturing defects, but will not protect against breakage due to improper use, improper maintenance, accidents, loss or theft.
If you do accidentally break your Kershaw blade, they will replace it for just $10.00. If you've really taken the bead off, Kershaw will also sharpen your knife for free when you send it in for warranty services.
Skyline Best Prices
The Skyline is available at a very reasonable price, making it a great choice to actually carry and use, as opposed to some of the more expensive options that may not be as likely to see daily use. The Kershaw website has it listed for $74.99, while other sites list the Skyline for just around $40.00.