Probably most everybody who knows much of anything about pocket knives has heard of Kershaw, quality made knives at affordable prices. The Kershaw Thermite is exactly that, a high quality knife with an affordable price tag.
Rick Hinderer is a knife designer well known for his quality designs that blend style and function seamlessly. So, naturally, when I heard of the Kershaw Thermite, a Kershaw made, Hinderer designed folding knife, I was anxious to see how it would perform. I was even more excited when I saw the price tag of just under $30 on Amazon.
The Kershaw Thermite is a folding knife with an overall length of 8.4 inches open, and 4.9 inches closed. The blade has length of 3.5 inches and the weight is 4.9 ounces. So this is a fairly large knife, which some may not want in an EDC knife. Personally, I don't find it that cumbersome, especially with the deep carry pocket clip, which I will get to shortly.
Key Specs of the Kershaw Thermite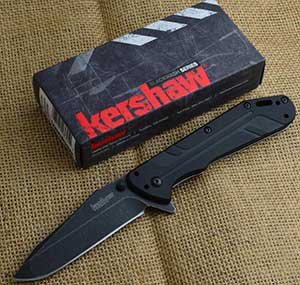 Weight: 4.9 ounces
Overall Length: 8.4 inches
Closed Length: 4.9 inches
Blade Length: 3.5 inches
Handle: G10 Front, 410 steel back
Blade Steel: 8Cr13MoV
Our Impressions of the Kershaw Thermite
The blade on the Kershaw Thermite is made from 8Cr13MoV, which is a cheaper steel that actually performs quite well. 8Cr13MoV will take a razor sharp edge, and retain it better than most other budget steels. The steel isn't as easy to sharpen as carbon steel, but it's definitely easier to sharpen than some of the harder steels.
The Kershaw Thermite has a unique blade style, which is popular on Hinderer designs. The knife has a Spanto blade shape, which is basically a mash up of Tanto and Spearpoint designs. This allows the Kershaw Thermite the ability to pierce objects without risking too much damage to the blade itself. The Thermite has a stone washed, hollow ground blade, and came razor sharp when I purchased it.

The Kershaw Thermite has a very aesthetically pleasing handle assembly. It utilizes G10, a popular, strong handle material for one side of the handle, with the other side being made from 410 steel.
The reason for two different scale materials, is the fact that the Thermite is a frame lock knife, which is regarded as one of the strongest locking mechanisms. I wouldn't baton wood with this knife, but the lockup feels very sturdy, with no blade play whatsoever.
The handle is quite large, and having large hands myself, this is a plus. The G10 isn't roughly textured like on most other knives with G10 scales. Instead, it is more stylized, with lines instead of a sandpaper like roughness. Regardless, the handles are still fairly grippy, but using the knife with wet hands could cause some slippage.
The handle also has a small, semi rectangular cutout near the pommel end. I've found that paracord fits nicely into the slot, so a lanyard for this knife may be a good choice.
Features of the Kershaw Thermite
The Thermite features a flipper and a thumb stud, but the thumb stud is quite small, so the flipper is the preferred deployment method. The knife is also equipped with Kershaw's patented SpeedSafe, which helps with deploying the blade.
For those unfamiliar with the SpeedSafe design, it is a design that utilizes springs to open the knife once it is partially deployed. This is a very reliable system, but if a spring or something else was to break within the knife, Kershaw is known for their lifetime warranty.
Carrying the Kershaw Thermite was a breeze, even though I mentioned how large it was. There is a pocket clip on the knife, and four different carrying options. One can carry the knife in tip up or tip down position, left handed or right handed. The pocket clip is a deep carry clip, which allows the knife to sit lower in my pocket, which keeps the bulkiness from becoming an issue.
Overall, I feel like I would recommend the Kershaw Thermite as an EDC knife. The design is by Rick Hinderer, and he knows what he is doing. The knife is aesthetically pleasing, functional, and carries easily. The SpeedSafe system makes deploying the Thermite quick, with very little pressure needed to be applied to the flipper. The lockup is very strong, and you can feel the durability of the knife when you hold it.
Another great feature of this pocket knife is the price, as I mentioned earlier you can pick this knife up from Amazon for around $30. If you're anything like me that means you're always looking for a great deal. I love budget folders and this one fits the bill for sure.
Final thoughts on the Kershaw Thermite
This knife isn't for everyone, however. It is a large knife, and while I have no problem using it for everyday carry related tasks, some may. If you have smaller hands, you may want to check out some other options to fit your hand better. Even if it fits your hands, the weight may deter you from choosing it. But if the size and weight do not concern you, I'm confident you'll be happy if you decide to purchase the Kershaw Thermite.