The SOG Flash II is yet another great knife made by SOG. SOG knives were created by the Studies and Observation Group, which was an elite covert operations military group in the Vietnam War. This means that you know you will be getting a quality pocket knife, one that is a favorite within the military as well as law enforcement.
​Any SOG knife, including the Flash II, is guaranteed to be innovative, dependable, unique, and tough.
SOG Flash II Key Specs​
Blade: AUS-8
Handle: GRN
Overall Length: 8″
Blade Length: 3.5″
Weight: 3.10 oz
Blade Shape: Drop Point
The SOG Flash II is a folding knife, with a three and a half inch blade. The blade is made of AUS 8 steel and is partially serrated with a drop point blade shape. I really like the drop point shape of the blade on this knife; it makes any work much quicker and easier. I find the drop point to be the best choice for hunting knives, but it is a great overall shape as well. The handle is made out of a durable glass-reinforced nylon, with a nice black finish.​
I like SOG's GRN because it is resistant to many common chemicals, such as methanol, motor oil, and transmission fluid. Obviously if you're a mechanic or regularly work on motors this will be more of a feature to your than others.​ Point is, GRN is very durable and can withstand the daily use of even the toughest jobs.
In the even you do have a problem, all SOG knives come with a limited lifetime warranty for any potential manufacturing defects or material issues. So you can feel secure knowing that you're covered if anything were to break.​
SOG Flash II Overview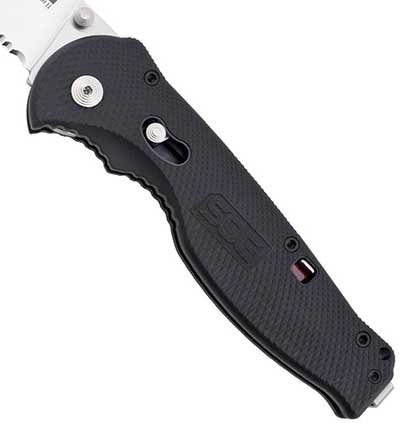 Each knife company seems to have its own, patented opening technology for their folding knives. SOG's version is the S.A.T. or SOG Assisted Technology. S.A.T. involves high-tension coil springs that engage once you start to open the blade. The blade opens quickly and easily with one hand.
​If you're accustomed to a regular opening knife, be prepared to want to switch and never go back after using this style. It is so incredibly fast, convenient, and frankly just plain cool to do over and over.
I also really like the piston lock, this is a movable bar that is wedged between the handle and the blade. This bar securely locks the blade into place when it's deployed.​
You can easily release it with a sliding button. These safety locks are so important for folding knives, not only for the user but also for the people around you. It is nice because the lock switch actually shows red when the knife is ready to open.​
Pros and Cons​
Of course, the most important aspect of any knife is the blade and it's edge. SOG has a proprietary heating treatment called Cryogenic Heat Treatment. They slowly bring the blade's temperature down to below 300 degrees Fahrenheit, and then slowly bring it back up to room temperature. This process creates stress, that increases strength and edge retention.
The entire process takes more than two days from start to finish, so it's quite involved. The CHT process is clearly effective, as this blade stays sharp for a long time.​
​The blade style is partially serrated, this makes for a versatile blade that can take on many tasks. In my experience, people either love or hate serrated knives. They can be difficult to sharpen, but also come in handy on tough cuts. Partially serrated blades combine the best of both styles. You have a plain edge for your traditional cuts and the serration for harder cuts.
Pocket Clip​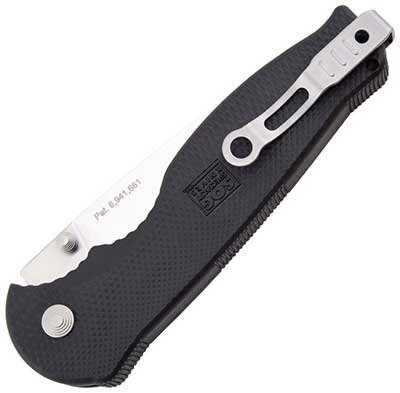 One point of contention for me that comes up often is the pocket clip, seems trivial I know, but I like pocket clips. I'm always concerned about how much of the knife is actually showing above my pocket. I have owned several knives that have pocket clips, they are nice and definitely convenient. But the top quarter of the knife is sticking out of my pocket. This is always frustrating to me and caused me not to carry a few otherwise great knives.
​This is not an issue with the SOG Flash II, as with this pocket clip it's a deep carry and the top of the knife does not show out of my pocket! I can EDC this knife without the worry of other people seeing my knife and becoming nervous of me, seems silly but it does happen.
Conclusion​
By far the biggest draw for this knife is the quick blade deployment. I always seem to have a need for a knife in the most inopportune times, so and easy and quick one handed deployment is a necessity for me. That combined with the overall quality of this knife make it a very good investment.