Benchmade has been making amazing quality knives for over twenty five years, no surprise but the Benchmade Mini Griptilian is no exception.
Their goal has always been to make something better than the competition, and to stand out as exceptional. Griptilian knives are built for performance and are especially useful in everyday activities.
This means that Benchmade uses premium blade steels, as well as handles that are aerospace-grade. They are used by everyone from stay-at-home moms to special ops dads, which means they need to be versatile as well a great value.
The Griptilian line of knives has a variety of options, in fact it has more colors, sizes and blades styles to choose from than any other knife they offer.
Buy the Benchmade Mini Griptilian
Quick Features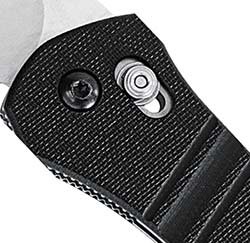 One of the main features that Benchmade knives are known for is their Axis lock. You do need to "break it in" for the first few deployments, but once the lock has been used a few times, it should slide open and shut quite easily. While there are many different lock mechanisms across folding knives, the Axis lock is by far the most appreciated and loved by its users.
Blade shape options are plenty on the Mini Griptilian, you can choose from drop point, tanto or sheepsfoot. Personally I'm a drop point kind of guy, but the sheepsfoot is quickly growing on me. Tanto has never been a blade I've preferred, but the option is available.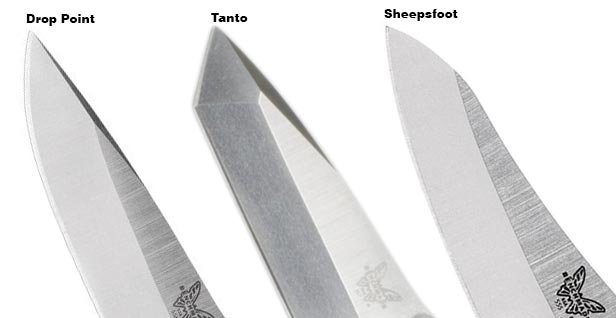 Which ever shape you ultimately decide upon, I can assure you the quality and cutting ability of the blade will be outstanding.
As for ergonomics, the indexing for this knife is extremely helpful. You could take it out of your pocket with your eyes closed and be able to open and use the knife just by the feel of the traction and texturing.
Benchmade Mini Griptilian Overview
Just as the name suggests, this knife is a bit smaller than the regular Griptilian, which makes it extremely portable. The blade is slightly less than 3 inches, and the total length of the knife when closed is only 3.87 inches.

Buy the Benchmade Mini Griptilian
The blade is made of 154CM and is considered by many as a high end blade steel. 154CM is kind of the standard blade steel employed by Benchmade, many of their knives use this steel.​ They choose to use this steel for many reasons, but most of all because it has excellent corrosion resistance properties and holds an edge well.​
If you have experience sharpening knives it won't be a problem to put a good edge back on the Mini Griptilian, however for some it could be an issue. 154cm isn't the easiest blade steel to sharpen, something to consider might be a good knife sharpening system if your new to it.
There are thumb studs on either side of the blade, making it easy for a righty or lefty to open the blade. The sheepsfoot blade has a thumb hole, similar to the Spyderco blades. I prefer this opening style over the thumbstud, I wish they would add it to the drop points also.
Of course, the name Griptilian also implies that the knife has a superior grip, which it does. The handle is textured to ensure it will not slip out of your hands, even when dealing with wet or difficult conditions.
Again, with the many options offered you can select the handle color of your choice. Standard colors are blue, pink, black, olive, sand and yellow.
The Mini Griptilian with a drop point blade weights in at a measly 2.8 ounces, this is a perfect weight for an edc knife. It's portable and extremely light weight, two important features for edc.
One other nice feature that is often overlooked or just not used is the lanyard hole. Yes most knives have them, but I almost never see them utilized by folks. I like a small loop of para-cord to help pull the knife from my pocket. It's not in the way and is only helpful, give it a try if you haven't before.​
Pros and Cons
For me, the best feature of this knife is the grip. It can hold up to the strangest and slipperiest conditions without fear of sliding out of your hands. It also has a finger choil to prevent your fingers from sliding into the cutting area, and provides extra comfort. There are ridges as well as a checkerboard pattern surrounding the knife handle, leaving almost no room for slippage.
Another feature loved by many is the Axis lock, an ambidextrous design. It's a small bar that locks the rear of the blade. That's the quick and dirty, there's more to it of course. I just know it to be extremely strong and safe.​
The blade works well for most tasks, but one drawback is that the blade is not super thin. There are certain textures or materials (such as cardboard) that are more difficult to cut through than others.​
The pocket clip included with the knife is also fairly large and a bit too strong at first. As with most pocket clips it makes the knife actually hard to remove from your pants. With a short break in period the pocket clip does loosen up, just be patient with it.​
Conclusion
The Benchmade Mini Griptilian is a perfect EDC knife (everyday carry) due to its size, grip, and quality. The customizable aspects of the knife make it appealing to a variety of knife users, and the size is perfect for almost anyone. This is the kind of knife you can carry and get a lot of use out of, as it is easy to use and will certainly come in handy.