As the winner of the Shooting Industry Academy of Excellence 1999 Knife of the Year award, the Benchmade 710 is definitely one to consider when making your next knife purchase. It was only the second knife to ever be honored with receiving this award.
The Benchmade 710 is a part of their Blue Class series of knives and was also their very first folding knife to ever feature their patented AXIS lock system.
Blade Materials
The blade is made from D2 Tool Steel, which has great wear resistance allowing the 710 to be an excellent knife choice for hard use applications. D2 is an air-hardened tool steel.
The blade also has a modified clip-point with ambidextrous dual thumb studs. Clip-points are a variation of a drop-point because unlike how the drop-point has a "slow convex-curve" the clip-point has a "clipped" profile to bring the point down, which is common with "bowie style" knives.
Key Specs of the Benchmade 710
Blade Length: 3.75 inches
Blade thickness: 0.125 inches
Cutting edge: 3.438 inches
Closed length: 5 inches
Overall length: 8.75 inches
Weight: 3.6 ounces
Handle Options
The handle comes with a black steel pocket clip and is designed for tip-up carry, which could be of some concern for individuals that prefer to carry their knives tip-down.
Some may say that tip-up carry is a safety issue, however I've found that these knives carry with the blade resting on the outer seam of the pocket, keeping the blade from ever opening by accident, not that it would anyway, just piece of mind.
It comes from the factory positioned on the right side, but can easily be repositioned on the left side with a "Torx" driver if preferred.
Benchmade's patented AXIS locking system is completely different from other brands, such as Kershaw or Spyderco, and is a significant step forward over the liner lock and lock back systems for reliability and strength.
It employs a spring loaded bar which locks the ramped tang when the blade is deployed preventing it from inadvertently closing. It is a completely ambidextrous design. This locking system is available in manual assist or automatic configurations.
The handle also has G10 scales, which is a fiberglass based laminate. It is lightweight and strong. Some owners have complained, however, that the G10 scales tend to be a little slick causing slight issues with gripping.
The liner and the stainless steel cause it to be a little on the heaver side for an every-day-carry, but overall it has a nice sleek look to it and is still easy to carry despite its weight.
Benchmade 710 Options
The Benchmade 710 has a few different configurations that you can choose from. It comes in plain edge or ComboEdge, which is also known as partially serrated.
See Why People Like the 710
There is also the difference between the D2 tool steel, BK1 coated D2 tool steel, M390 steel, and DLC coated M390 steel blades, which may require a little additional research on your part to determine which you prefer if it could make a difference in your decision making. Two of the more expensive configurations are limited editions and range from $230.00 to $260.00.
When purchasing your knife through the Benchmade website, they offer customization on most, but not all of their knives, through their laser-marking service.
Customization can be done anywhere on the blade or handle of the knife. You have the option of doing a logo, text, and/or a full pattern. Text costs $5 per knife and logos, patterns, and images cost $25 per knife.
So How Does the 710 Matchup?
Let's be real here, no doubt the 710 is very nice, it's also very expensive. If I'm spending $150 on a pocket knife, it better be the perfect pocket knife. Is the 710 that knife, I don't know.
I would be hard pressed to purchase the 710 over say the Benchmade 940, or even the Spyderco ParaMilitary 2.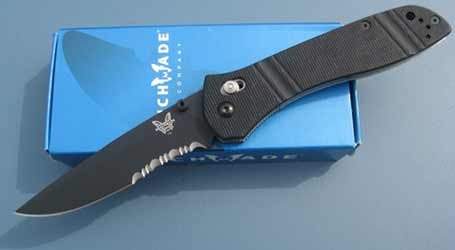 All 3 being similar in size and price, the 940 is lighter, coming in at measly 2.9 ounces, that being the only real difference in specs. It comes down to preference, and ergonomics, or maybe just simply which knife looks cooler to you.
710 Price Range
As with most knife manufacturers, you have few different options to choose from if you decide to purchase a Benchmade 710, and depending on which you choose the price can vary greatly.
For example, you can choose a standard 710 with D2 steel and can generally expect to pay in the $150.00 range, also available with BK1 coating for a little extra.
For the insane, they have a limited edition Gold Class 710 as well, with a crazy price tag. One of those look but don't touch items.
Benchmade Warranty
All Benchmade knives are backed by their Benchmade Lifetime Warranty, as long as they are purchased from an authorized dealer. This ensures the original owner that their knife will not be defective.
If Benchmade determines that a knife is defective when sent in for warranty services, they will either repair or replace the knife at no charge.
Broken tips are typically not covered and can be fixed for $30.00 or $40.00 depending on if the blade is made of a satin or black finish.
Benchmade will also sharpen your knife through their Benchmade Lifesharp service, however, they will not sharpen serrated blades. Their approximate turn around time for services is two to four business days.
PROS
AXIS Locking System
High Quality Materials
​Rugged Tough D2 Steel
CONS
Very Expensive
Slick G10 Scales
​Heavy for EDC
Rugged and Tough working mans knife, but on the expensive side