When we talk about the ideal EDC pocket knife we're talking about the perfect blend of design. We're not just talking about how well it holds its edge, or how good the material is. We're talking about a blend of design, quality, capability, materials and ergonomics.
The Benchmade 940 Osborne is one of the few knives I've come across that is an infusion of these factors. It's unique. It's practical. It's top-quality.
See More Details about the Benchmade 940 Osborne
Benchmade Brand
​Benchmade has long been proven as one of the best knife-makers out there. Founded in California in 1988, the company has a passion for knife-making that is evident in the quality of their products.
They've spent over two decades perfecting the art (and it is an art), which has led them to becoming one of the most renowned knife-making companies in the business. The 940 is designed by Warren Osborne, who regularly works with Benchmade to design knives. Osborne has long been known for designing some of the best knives on the market.
Key Specs of the Benchmade 940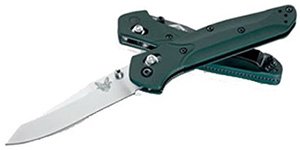 Blade Length: 3.40″
Blade Thickness: .115″
Blade Material: S30V & S90V
Blade Style: Reverse Tanto
Overall Length: 7.87″
Closed Length: 4.47″
Our Impressions of the Benchmade 940 Osborne
There's no denying that the Benchmade 940 is stunning. Its specs make for a great EDC knife. The 3.4 inch blade folds to a closed length of just 4.47 inches, and it weighs in at a measly 2.9 ounces. It's almost unnoticeable to carry and the overall feel of the knife is superb. Balanced beautifully, it's perfect for any task you would expect of an EDC pocket knife.
The 940's blade is possibly the most exciting thing about this knife. It is of reverse tanto design, a somewhat trademark of Osborne's. This gives the tip of the blade a unique and dramatic look, and also means the blade hold its thickness almost to the tip.
The blade is made from S30V stainless steel which is classified as a premium knife steel. It has the ability to hold its edge for months and for me that's a massive plus.
Aesthetically, it's slick. Practically, it's excellent.
The 940's handle is made from aluminium with stainless steel liners. Ergonomically, it's brilliant. The balance of the knife coupled with its light weight and intelligent shaping make for a handle that compliments the blade with ease. It has a soft matte finish which is great for grip when using with wet and slippery hands.
Overall I found the handle to be exceedingly comfortable and refined. It's neither bulky nor too small to handle properly.
Comparable Pocket Knives
One of the well known rivals of this knife is the Spyderco Delica 4. This knife is considered by many to be an excellent EDC knife (myself included), however it does not match the 940 for blade steel and design.
Another rival is the Spyderco Endura 4, but again, it does not match the 940's blade steel quality. It is also slightly heavier.
If you would prefer to keep it in the Benchmade family, you should take a look at the 908 Stryker, Barrage or the Griptilian. All 3 are excellent knives and come in a little less expensive than the 940.
Final thoughts on the Benchmade 940
All up, the Benchmade 940 Osborne is ​a masterfully created knife. Visually stunning, its looks are matched by expert design and top-quality materials. It's perfectly suited to be an EDC knife and it's dimensions and weight mean that it is easily stored in your pocket without a fuss.
The S30V steel blade is sturdy and sharp, and able to keep its edge longer than most knives. Ergonomically, the design makes for easy handling and control. Overall, the 940 lives up to its company's mantra, "It's not a knife… it's a Benchmade." The 940 is in a league of its own.