Perhaps you'd like a sharp pocket knife to keep around just in case. Well, in that case, the Kershaw Chive pocket knife might work for you. This small pocket knife is just the right size for keeping around in a pocket, everyday bag or a glove compartment.
Not only that, its sleek design makes it worthy of keeping around for a long time to come. Its ergonomics alone make it a good choice for both men and women to use, especially since it opens fast and easy with just a hand.
So, should you consider buying the Kershaw Chive pocket knife? Stick around for our full review on this knife to find out.
Kershaw Chive Pocket Knife...
KERSHAW CHIVE POCKETKNIFE: Made in the USA and with a blade just under 2-inches, the Chive makes a small, pocket-friendly, and versatile knife. A small, but mighty, capable EDC.
DROP POINT PLAIN EDGE BLADE: Made from high-carbon, corrosion-resistant 420HC blade steel with a bead-blasted finish for an attractive matte look.
410 STAINLESS STEEL HANDLE with a bead-blasted finish to match the blade. Silver handle. Includes single-position pocketclip for right, tip-down carry and a pre-drilled lanyard hole.
Our Impressions of the Kershaw Chive
Like all Kershaw branded knives, the knife's design was produced by the company's in-house team. The Chive, in particular, was designed by Ken Onion for Kershaw.
This pocket knife is made of several materials. Its blade is produced from 420HC stainless steel, while the handle is produced from 410 stainless steel. We'll get deeper into that later on though. The Chive's handle is also produced with other materials and colors, such as its titanium oxide coated version that makes its handle and blade have a shimmering rainbow sheen.
Knife Ergonimics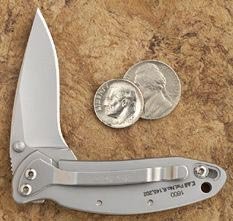 The Chive is a tiny knife, especially when compared to other Kershaw offerings like the Blur. But given that it's a pocket knife, it's perfect for its intended use as an EDC (everyday carry).
Besides being easy to use, it's also easy to clean and maintain.
Despites it's small size, the Kershaw Chive still feels really good to use. Its multifaceted lock system makes using and storing this knife a pinch.
In addition, the stainless steel blade performs well and has great edge retention and corrosion resistance.
Blade Materials
As mentioned above the blade is produced from 420HC stainless steel in a drop point style. 420HC is a modified version of 420, the 420HC will have higher amounts of carbon and chrome to increase its hardness and resist corrosion much better. It's ease of sharpening is still very good and I would say its edge retention is in the medium range.
Since it's pretty compact, the blade measures 1-15/16 inches. When it's closed, the entire length of the knife (plus handle) only measures 2-7/8 inches. When open, the knife (including the handle), measures 4-3/4 inches.
Handle Materials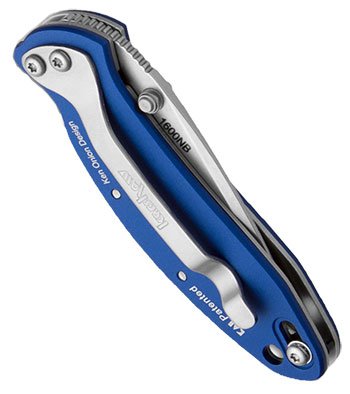 The handle is made from 410 stainless steel, which is your general purpose stainless steel. It's designed to provide great corrosion resistance and high hardness. This is a good material for knife handles for durability purposes.
One issue I have with these stainless steel handles though is the fact that there isn't much in the way of texturing. Wet conditions can cause slips and could potentially be a safety issue.​
However, due to the 420 stainless steel, Kershaw is able to offer the Chive in many color combinations. By way of anodizing they are able to produce practically any color in the rainbow.
The handle is also equipped with a single position pocket clip, usually for tip-down right handed carry. So for the lefties in the world or just folks who like the options of tip-up carry I'm here to tell you you're out of luck with this knife.
SpeedSafe Feature
The SpeedSafe system is perhaps the biggest component in this knife. This assisted opening system, as designed by Ken Onion, produces an opening mechanism that makes opening and closing the knife simple and easy.
You only need to start opening the knife with its thumb stud and the knife easily slides open. The SpeedSafe system also prevents the Chive (and similarly equipped knives) from opening due to outside factors.
Since the knife is very small, and I have larger hands I found the thumb stud is a bit awkward to use at first. Positioning the knife in your hands take a bit to get used to. But that was quickly overcome and it's not really that bad. I'm just nitpicking at this point.
Frame Lock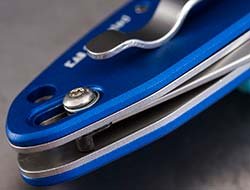 A frame lock is a portion of the handle that moves in behind the blade when deployed to lock the blade into the open position. Short of a catastrophic handle failure this type of lock is rock solid and isn't going to fail easily.
The Chive also includes an additional tip lock, which prevents the blade from accidentally popping open inside your pocket. While some commented that the tip lock isn't "as strong as it should be," it does provide adequate enough protection.
Kershaw Chive Versions
As I've said earlier, several version of the Chive exist. Much of the variations happen to the handle colors and knife finishes. A few examples would be:
Additional handle colors available include red, blue and pink.
Pros ~ What People Liked
The Chive is perfect as an EDC, you can easily carry in your pocket, a bag or even on a keychain.
SpeedSafe opening system is fast and works without a hitch.
Build quality is great and has an excellent finish.
Blade is razor sharp out of the box and easy to sharpen.
Made In the USA.
Cons – What People Don't Like
It's a small knife, so if you have big hands it could be difficult for you to hold and work safely with.
The tip lock doesn't feel very strong, although is adequate.
The thumb stud is kind of small for folks with big hands.
Edge retention isn't great with the 420HC blade steel.
Single position pocket clip.
Final Thoughts on the Kershaw Chive
If you're looking for the 'ultimate tactical pocket knife,' the Kershaw Chive isn't likely your best bet. It's very small pocket knife and has it's limitations on what it can do.
However, if you are in the market for a smaller EDC knife to keep on you for small jobs around the house of even at the office, the Kershaw Chive would be an excellent choice as an EDC pocket knife.