Plenty of great pocket knives exist on today's market. But if you're looking for an entry level pocket knife, why not get one from a company that started it all?
Spyderco is the name that knife enthusiasts think about when they recommend knives to new buyers. The knife maker is best known for introducing folding knives with serrated edges to the current market.
They also designed today's efficient pocket clips, in addition to the ubiquitous one-handed pocket knife.
If you're planning to buy your first one handed pocket knife, buying a Spyderco knife is a good choice. But should you buy the Spyderco Persistence as your first knife? Stick around for our review to find out.
A Value Folder- Spyderco offers a unique breed of knives that truly live up to their name. They are perfect for novice knife buyers and as gifts for those you might want to "convert" into knife enthusiasts.
Superior Blade Steel – The 2.77″ 8Cr13Mov stainless blade is leaf-shaped and ground flat from spine to cutting edge for non-stop cutting performance.
A Secure Grip – It has a black G-10 laminate handle, Ergonomically milled with prolonged fatigue-free cutting in mind. Comfort in hand means easier use long-term.
Our Impressions of the Spyderco Persistence
Spyderco, as implied, designs and manufactures their branded knives. The Spyderco Persistence, also known as the C136 Persistence, is a smaller version of the company's Tenacious Model.
It was named for the word persistence, describing a steadfastness and 'never give up' attitude attributed to those who may purchase the knife.
Blade Materials
The 2-3/4 inch blade is made from 8Cr13MoV stainless steel, cut into a modified skinning style ground flat blade. The curved design helps the blade efficiently cut through many materials. Out of the box, the blade edge is fully sharpened, from the hilt to the blade tip.
The 8Cr13MoV steel I would classify as mid-grade. Other models such as the Tenacious and Spyderco's other value lined pocket knives utilize this blade steel as well.
It's not a premium steel by no means, but for and EDC type of pocket knife it does the job perfectly. It sharpens back up to hair-popping levels quickly too. So yeah, a really good and inexpensive EDC steel.
Handle Materials
The handle is made from G-10, which produces a hardened and comfortably shaped handle. Spyderco designed the handle to prevent users from developing fatigue when in use. Inside the handle are skeletonized steel liners which help increase the handle's resilience and strength without compromising its lightweight form.
The knife handle (with the blade folded) measures 4-1/8 inches, while the overall length of the knife measures a little close to 7 inches.
Spyderco's patented SpyderEdge serrated blade produces a very efficient cutting performance, especially when compared to other knives on the market. The company uses a unique serration pattern, one large inlet to two smaller inlets, which helps the Persistence retain its sharp edge and perform better.
Locks and Other Cool Stuff
The Spyderco Persistence lock system is pretty straightforward. The knife uses Spyderco's own patented Liner Lock mechanism, which allows the knife to be opened and closed with the use of just one hand.
Another important components of Spyderco's Liner Lock mechanism is their patented Round Hole, also referred to as the Spydie-hole. As the first to implement such a mechanism, the result was a knife that could be opened with one hand easily, whether gloved or not.
Not to mention I think the Spydie-Hole is cool looking. I think it really sets Spyderco apart from other knife manufacturers. ​They make Spyderco knives instantly recognizable just with a quick glance.
The knife's pocket clip is yet another Spyderco innovation, designed to allow a knife to sit on the edge of a pocket without a hitch. Later iterations changed the design to allow the knife to be adjusted in any position, with the blade up or down.
The Spyderco Persistence includes a pocket clip that effectively shows off the innovations Spyderco has perfected over the years.
Ergonomics of the Spyderco Persistence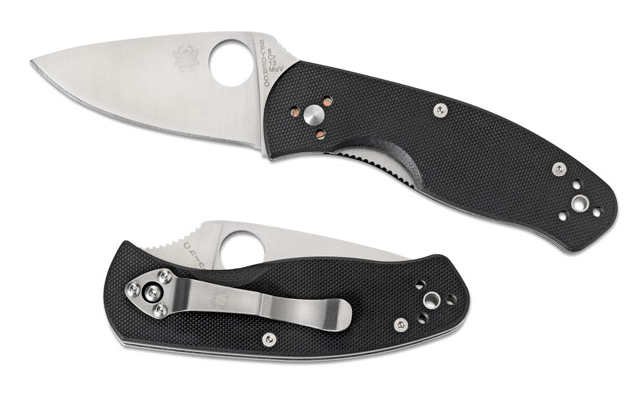 Spyderco knows how to make comfortable knives. The Spyderco Persistence is a comfortable pocket knife that accommodates small and large hands, in addition to gloved hands.
Many people have commented about how comfortable the Spyderco Persistence feels after using it for an extended amount of time.
The Spydie-Hole makes using this knife far easier, since it allows the Persistence (and other similar knives) to easily slide open when holding with one hand. Due to this design, it's very convenient to have to use the knife and open it in a pinch.
Similar Spyderco Knives and Options
The Spyderco Persistence is best known as a smaller version of the popular Tenacious knife. If you were looking for a larger version of the Persistence, it's highly suggested to get the Tenacious instead.
Like many pocket knives of its class, the Persistence handle is often repurposed into different colors and, sometimes, finishes. Popular variants of the Persistence feature a black handle finish and a limited edition blue handle finish.
Pros – What People Like about the Persistence
The knife blade comes in a shape that makes cutting more efficient, as well has having blade steel that's very strong for a knife in its class.
The Knife is simple to deploy and feels great to hold for long periods of time.
4 way pocket clip and easy locking mechanism make this knife very easy to use.
Inexpensive, yet still a good entry level choice for people looking for a dependable pocket knife.
Cons – What folks don't like
The blade material is 8Cr13MoV, which is a mid-tier blade and the edge retention isn't great, but it's very easy to sharpen.
Made in China and this may be a turn off to some.
The blade may not be sharp enough right out of the box and will probably need a touch up.
Verdict?
As a value folder, I personally really like the Spyderco Persistence. I think it's a very comfortable knife to use and as a EDC is more than acceptable.
While its build quality may put off the staunchest knife enthusiast, the Spyderco Persistence is a solid pocket knife that pretty much gets the job done. It's resilient, cuts well and is a good sized comfortable knife that fits most hand shapes.
Check out latest reviews and prices for the Spyderco Persistence