Review of: Kershaw Knockout
Use: Everyday Carry
Blade Steel
Sandvik 14C28N is a budget steel, edge retention isn't great but its easy to sharpen
Handle Material
Aluminum scales can get slick, however excellent ergonomics make up for it
Price
Reasonably priced everyday carry
Rating
Absolute favorite among users, many 5 star reviews
We Like
Olive and blade make for a cool color scheme
Great handle ergonomics, very comfortable
We Don't Like
Aluminum handle can get slippery when wet
Lack of jimping on top side of handle/blade
Quick Summary: If you're looking for an EDC knife with the largest blade possible, then the Kershaw Knockout is the ultimate EDC for you. It's large blade and comfortable handle ergonomics make those tough jobs a breeze.
Check Latest Prices at Amazon.com
The Kershaw Knockout is a pretty popular folding knife, which means there has to be many great qualities to this knife. I mean, if you pay much attention to Amazon, you can see the user reviews are through the roof with praise. I had to see for myself what all the hype was about!
Kershaw is a subsidiary of Kai Corporation, which is Japan's premier blade producer. Kai Corporation has been in business for over 90 years, and has created over 10,000 products. Don't be worried though, Kershaw is a US based company and the Knockout is made right here in the USA.
Kershaw Knockout Key Specs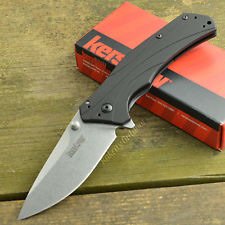 Overall Length:

7.9 in.

Blade Length:

3.25 in.

C

losed

Length:

4.6 in.

Handle:

6061-T6 Aluminum

Steel:

Sandvik 14C28N

Weight:

3.4 oz.
First Impressions
The Kershaw Knockout is a cool looking pocket knife for sure, it's sleek and has a good look to it. There are 2 color options, black handle with stone wash blade or a Olive handle with black blade. I love the Olive/black combo, just looks awesome.
The handle is made from anodized aluminum and the ergonomics are outstanding, it fits nicely in your hand. It's really comfortable, this is important if your going to be completing repetitive tasks, or one that might take a little longer.
The Knockout has a special Sub-Frame Lock, which is a stainless steel plate that creates a frame lock. It's called the Knockout because a part of the aluminum handle was "knocked-out" and replaced with steel to reinforce the lock. The steel provide more strength than aluminum would provide.
Additional Features
When it comes to carry style, you have options. The quad mounted pocket clip is extremely convenient. You can configure this clip to your preferred style, tip-up or down and left or right side. One issue I did have with the clip, its tight at first and takes some time to break in, but I do like the deep carry to help conceal the knife better.
The Knockout also features the SpeedSafe assisted opening, which provides quick blade deployment. If you're unfamiliar with SpeedSafe, it's a system that makes opening the Knockout with one hand a breeze. A slight push on the thumb stud or pull back the flipper and the blade deploys lightning fast. Really fun!
The blade steel of Knockout is Sandvik 14C28N. If you are not familiar with blade steel types, I would classify it as a mid-grade steel. It has great qualities that resist corrosion well, and also can be made very sharp. Edge retention is lacking, it is a budget steel so its not going to complete with premium steels. But, it's an easy steel to sharpen and keep sharp with some quick touch ups.
The blade also has a DLC coating, which stands for Diamond-Like Carbon and serves a few purposes. Of course it looks cool, a tactical style blade. It's also non-reflective so if you need to be concealed your position will not be compromised by a shiny blade. The best feature of the DLC coating is the added hardness to resist deforming and the corrosion resistance bonus for being coated.
Criteria for Choosing a Knife
For me the top considerations for choosing any folding knife is the speed with which the blade can be deployed, and the overall safety of the knife. The Knockout's SpeedSafe allows me to quickly deploy the blade with a single hand, a great feature for multitasking.
Another important consideration would be the overall size of the knife. Any knife you plan to carry as an EDC will need to fall within reasonable size limitations for the intended purpose. The Kershaw Knockout to me seems like a large knife, however for EDC purposes it's a perfect size. While the blade is only 3.25″, the handle is 4.6″, which sounds big, but it really isn't. It fits nicely in my pocket and I still have room for other items, like car keys.
I find myself loving this knife as an EDC, being a little larger of a knife there aren't many jobs the Knockout can't get done.
Here is a quick run down of the pros and cons of the Kershaw Knockout
Pros
The handle of this blade is very comfortable and ergonomic. This is extremely important if you are going to be completing a repetitive task, or one that might take a bit longer.
This knife is the perfect size for carrying around, and fits easily into a pocket. This might be my favorite feature, as it makes the knife perfect for everyday use.
Although the blade is a bit larger than other folding blades, the knife is still very slim and lightweight. It can easily remain in your pocket all day at home, or out on the hiking trails, camping, hunting, any activity where you might need a knife.
Cons
Not everyone wants a folding knife with a blade this size and I found it to be a tiny bit awkward or hard to close on occasion. Not enough to be a huge deal, but enough to notice.
If you work outdoors in wet conditions or even just have sweaty hands like me, the aluminum handle can get slippery at times.
Perhaps the biggest drawback to this knife is the lack of jimping. Many knife users, myself included, rely on the small notches that are often cut into the back of the blade to prevent slipping and sliding, and they are absent on this model. That, combined with the potentially slippery handle, can be a bit frustrating.
Conclusion
If you are looking for an everyday carry knife (EDC), the Kershaw Knockout features the biggest blade that would still be practical for actual everyday use. It is large enough to tackle bigger tasks, but not large enough so that it seems out of place when using it for everyday activities. Overall, it is a very sturdy and quality knife at a reasonable price.