The Spyderco Delica 4 has long been regarded as the "EDC knife" – and there's a good reason for this. In fact, there's many good reasons for this. It's made its mark on the industry and cemented itself among the greats.
Most knife-enthusiasts have more than likely heard of it, or even owned one, and no doubt the little wonder has lived up to its good name. As an EDC knife, it's practical and more than capable of undertaking the most everyday tasks. Perfect for anyone with preparedness in mind.
Base Dimensions:
Blade Length: 2.875″
Blade Steel: VG-10
Blade Thickness: .093″
Length Overall: 7.125″
Length Closed: 4.24″
Handle Material: FRN
Weight: 2.5 oz
SPYDERCO BRAND
Spyderco is a well-known brand for a reason. It's thanks to them that we have one-handed opening and pocket clips. Dropped in 1990, the Delica went on to become the flagship of Spyderco EDC knives. Spyderco has made a name for themselves with their quality and sophisticated design. Working with custom knife makers they have refined their work to the great knives we see today.
OUR IMPRESSIONS OF THE SPYDERCO DELICA 4
Looking at the Delica 4, it's easy to be tricked into thinking it had been designed with the future in mind, or maybe the designer just got carried away with angles. But there's no arguing the fact that it looks exquisite. Perfect for an EDC knife, it sports a closed length of just 4.25 inches and a weight of just 2.5 ounces. Though it's a relatively small knife, it's balanced well. Extremely well, in fact. Which is no surprise considering the time Spyderco have spent honing their design.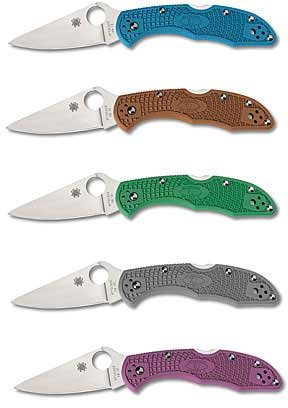 The Delica 4's blade is made from Japanese VG10 stainless steel which is a personal favorite of Spyderco. This steel can be a little tougher to sharpen because of its composition, but the result is a blade that easily holds its edge for a good amount of time.
The blade doesn't reflect the handle's smart look, but its simple design gets the job done and holds up well under strain. There is a thumb-hole in the blade which is from Spyderco's signature ambidextrous, one-handed deployment. This adds a certain unique quality to the mix.
Made from fiberglass reinforced nylon (FRN) and backed up by stainless steel liners, the handle is by far the most visually impressive element of the Delica 4. The surface features what is called "bi-directional texturing". This is Sypderco's effort to thwart slipping from any direction. There is also quite a lot of jimping on the knife's spine.
The bi-directional texturing and generous jimping means that, ergonomically, the Delica 4 is amazing. It handles well and slippage doesn't seem to be an option. For the size of the knife, there has been no compromise between the blade and the handle which means that, overall, it's balanced really well.
HOW DOES THE SPYDERCO DELICA 4 COMPARE
Spyderco also offers the similar Endura 4. Both the original Endura and Delica were released in 1990 and have since remained the go-to knife for Spyderco customers. Also an EDC knife (be it a big one), the Endura 4 boasts some of the same features as the Delica 4 just in a slightly larger package.
Another contestant is the ever-popular Benchmade 940. Also at the forefront of its company, the Benchmade 940 has continued to make waves in the industry offering a reverse tanto blade design with trusted S30V steel.​
FINAL THOUGHTS
The Spyderco Delica 4 has it all. It has a beautiful design coupled with quality materials and great features. As an EDC knife it's more than capable of handling tasks with ease. Its VG-10 steel holds an edge well. Ergonomically, it's brilliant. Its small size and light weight mean that it can fit easily into your pocket. It's both drastic and striking, practical and smart. The Spyderco Delica 4 has a right to be one of the most applauded EDC knives on the market. It's earned it.​