Spyderco first introduced the Endura brand knife in 1990 and it has since become one of their top selling pocket knives. Over the years, Spyderco has continued to improve Endura's blade, ergonomics, and performance.
Spyderco focuses more on function and performance rather than appearance, resulting in knives unlike any others, which has developed a very strong fan base.

Check Latest Prices on Amazon.com
Although Sypderco is located in Golden, Colorado, the VG-10 version of the Endura 4 is actually manufactured in Seki City, Japan. However, the quality of the knife is not compromised even though it was not made in the United States as some individuals prefer.
Key Specs of the Spyderco Endura 4
Blade Length: 3.75 inches
Blade Thickness: 0.125 inches
Cutting Edge: 3.438 inches
Closed Length: 5 inches
Overall Length: 8.75 inches
Weight: 3.6 ounces
Our Impressions of the Spyderco Endura 4
The Endura 4 is on the larger size for an every-day-carry knife at almost 9 inches overall. If smaller size is important to you then you may want to take this into consideration an choose a smaller version of this knife, the Delica. However, this knife is durable, reliable, and affordable so it shouldn't be ruled out instantly.
The Endura 4 has the Spyderco Trademark Round Hole, or sometimes known as the Spyderhole, in the blade near the handle to aid in one handed opening. This feature is used instead of thumb studs or flipper assisted mechanisms like many other knives have.
The hole in the blade may also serve as a thumb rest to ensure better control. It has been noted that deploying the blade in the Endura 4 does take practice since simply starting the movement with your thumb may not be sufficient to fully engage and lock it in place.
The VG-10 is an excellent steel and is considered 'high-end' and holds an edge very well in this flat saber ground blade. Because of the flat blade, the spine is thinner and should cause less resistance when slicing through material.
Even though thinner, it still has adequate jimping, which are grooves that improve control by adding texture, for added leverage when needed. The VG-10 steel is excellent at corrosion resistance and is very easy to sharpen.
Spyderco Endura 4 FRN, or fiberglass reinforced nylon, handles also have Bi-Directional Texturing, which is a patented design and increases the ability to grip solidly with less chance of slipping whether you are using it in wet or dry environments.
There are steel liners inside the FRN handle which add strength to the knife. It has a back locking system which is located at the back of the handle and locks the blade in place while it's in use.
Spyderco has trademarked their pocket clip as the CLIPIT and fans even call themselves CLIPITEERS. The pocket clip is very versatile in that it can be changed to your personal preference.
It can be positioned either as a tip-up or a tip-down mode and can be positioned on either side of the handle, beneficial for ease of use by both right and left handed users.
Check here for Amazon's pricing and reviews of the Spyderco Endura
Endura Blade & Color Options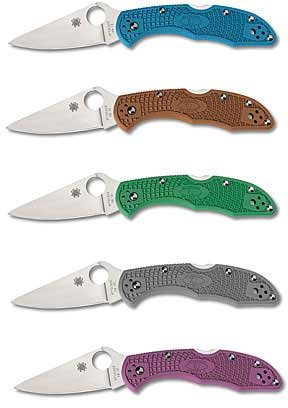 When buying your Spyderco Endura 4 there are several options to consider. First, there are different blade options: PlainEdge, ComboEdge, and SpyderEdge.
The ComboEdge blade is partially a PlainEdge blade and partially a SpyderEdge blade.
The SpyderEdge blade is a two-step serration which increases the cutting edge's surface by up to 24 percent.
Also available on the Endura 4 are the many different handle color variations.
Customers have the choice or your standard black, or they can trick it up with blue, brown, gray, green, orange or purple. There is even a stainless steel option that has a sleek look to it without being too heavy.
The Spyderco Warranty
The Spyderco Warranty states that all of their products are free of defects. However, if Spyderco deems one of their products as defective they will repair or replace it at no cost to the owner.
Abuse, misuse, loss, improper handling, alterations, accident, neglect, disassembly, and improper sharpening will all void the warranty. Repairs made by any company other than Spyderco will also void the warranty.
Spyderco also offers blade sharpening for $5.00 for up to four knives at a time. Spyderco will not replace broken blades, but might be able to re-profile or re-serrate it.
This, as well as clip and clip screws and handle repairs, can all be sent for repairs for $25.00. This includes shipping and handling.
Endura's Best Prices
Like many other Spyderco knives, the price depends on the configurations you choose. Spyderco lists the Endure 4 FRN knife for $114.95 on their website. However, you can find the same knife for just about $65 on Amazon.
Final thoughts on the Spyderco Endura 4​
Spyderco's Endura 4 is a lightweight, high performing EDC knife and shouldn't be overlooked if you are in the market. Price wise at around $65, (on amazon) you really can't go wrong with this pocket knife. With it's FRN scales, a VG-10 blade and fantastic ergonomics, Spyderco simply continues to improve the Endura Series with each release.