Benchmade Infidel Review
While some people want a pocket knife, others need something a little more. That 'a little more' typically comes in the form of an out-the-front knife or sliding knife, a heavy duty knife many may recognize from their parent's tool shed… if they had one.
But if you're in the market for an OTF pocket knife, you likely don't have one yet. So why not try the Benchmade Infidel. In this review, let's learn why you might want to pick this OTF knife up.
History and Maker
The Infidel was of course designed and manufactured by Benchmade Knives. The knife was created to take a spot in the small out-the-front knife market.
Eventually, the Benchmade Infidel became one of the best selling OTF's on the market.
The Infidel is designed for knife enthusiasts, in addition to those involved in the military and law enforcement. As a large knife, it primarily serves as a 'self-defense' tool (based on local laws) and a collector's knife.
Key Specs of the Benchmade Infidel
Blade Length:

3.91 inches

Blade Steel:

D2 Tool Steel

Blade Hardness:

60-62HRC

Blade Style:

Double Edge Dagger

Weight:

4.90 ounces

Overall Length:

8.91 inches

Closed Length:

5.0 inches

Handle:

Anodized 6061 T-6 Aluminum
Materials
This fully automatic knife features several high quality materials. Its blade is made from D2 tool steel, shaped into a double edge spear pointed blade with a matte satin finish and flat grind.
While that type of steel isn't full stainless steel, it does produce a hard, strong blade that remains sharp for a long time.
The handle also utilizes anodized machined 6061 T-6 aluminum, which can be finished in several colors.
Blade
As mentioned, the Infidel's blade is crafted from D2 tool steel, a type of high carbon steel that produces a sharp, strong blade.
The blade is shaped into a double edged blade with a spear point. The D2 steel blade is known to remain sharp for a long time, so you don't have to sharpen it very often. However, when you do need to sharpen it, that could be an issue. D2 tool steel is hard and can make it difficult to take a good edge.
This is a serious enthusiast's knife, since those who are pretty savvy with knives like these will know how to properly sharpen them. Others who aren't as well versed with knife sharpening may need to take the knife to a professional.
The blade itself measures 3.9 inches long and 0.118 inches thick, so there is a lot of blade to perform a great many tasks.
Still, the Infidel is a good knife to keep around for its long lasting sharpness. When in use, it doesn't dull, even if its flat grind edge makes it seem that way. All in all, most people will enjoy this blade for its sharpness alone.
Handle
A sharp blade needs a strong handle, right? Well, that's what the Infidel possesses, a strong handle that feels comfortable in both hands.
Its out-the-front knife structure lends to a comfortable handle grip that allows users to maintain a strong, yet comfortable grip on the tool.
The handle measures 4.8 inches long and 0.59 inches thick. When the blade's deployed, the entire knife measures 8.9 inches.
The handle has mirrored cutouts on both sides, which helps you secure the knife in either hand when in use. The flared knife end also helps keep the knife from being pulled out of your hand when you're using it.
In addition, the notches on the front lock's slot helps prevent the blade from rubbing against the handle if it slides around when in use.
The knife also has a pocket clip affixed to its back side for easy carry. Its a nice sturdy pocket clip that allows a right hand tip down carry. It sits deep in the pocket for a more concealed carry.
Lock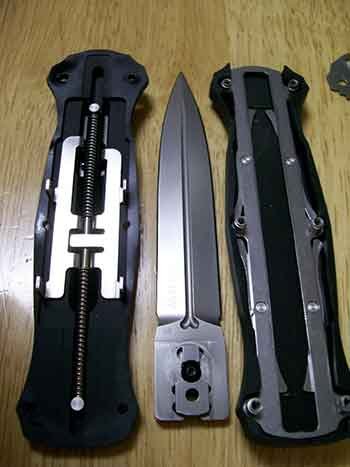 The Infidel utilizes a double action out-the-front automatic lock. You can deploy the lock mechanism from the back of the knife, where the switch resides.
The best part about this mechanism is that it's easy for both left-handed and right-handed users to deploy.
Although its three point retention mechanism isn't the sturdiest, it does effectively keep the blade secure while you have the blade out. So, while it might feel loose, the Infidel's retention mechanism is pretty solid when you're using the knife.
The retraction system is pretty solid, too. You only need to pull back the trigger switch to retract the blade back into the handle.
Benchmade Infidel's Ergonomics
As mentioned, the Infidel feels comfortable to hold when it's in use. Anybody that has used the Infidel extensively can vouch that the design of the knife allows for easy use and just feels good in your hand.
At first, the knife may feel a little loose or tight (due to its mechanisms), but once you start using the knife, you'll soon find the Infidel as a 'solid' tool that has been machined to precise specs.
The deployment switch does have a slight weakness: it can be unpredictable. The switch may give a bit before retracting or extending the blade, so you may need to use a little force to get the switch and the deployment/retraction process going. Still, it's a minor issue that doesn't detract from the knife in my opinion.
Other Variations
Several versions of the Benchmade Infidel exist. Much of its variations switch out the blade type or handle finish.
Benchmade Infidel OTF 3300, Standard (Dual plain edge blade) (reviewed)

Benchmade Infidel OTF 3300, Standard (Dual plain edge blade, partially serrated)

Benchmade Infidel OTF 3300, Standard (BK1 tactical black-coated blade)

Benchmade Infidel OTF 3310, Single-Edge

Benchmade Infidel, Mini-Infidel 3350 (3.1 inch blade)

Benchmade Infidel, Limited Edition 'Gold Class' (Damascus steel blade)
Pros – What People Liked
The ergonomics make this knife very easy for people to use in both hands.
The lock/retention system is pretty solid, allowing for easy deployment and retraction.
Cons – What People Don't Like
The deployment switch does have a slight weakness; the switch may give a bit before retracting or extending the blade.
The price may be too much for some people, the Benchmade Infidel currently retails for around $400.
Final Thoughts on the Benchmade Infidel…
While complete newbies to the world of knife collecting might not get the hype, the Benchmade Infidel is a solid addition to any serious knife collector's stash. It's comfortable, performs well and keeps for a long time. Those traits alone make it a good buy, despite its high price.