Benchmade knives have long been making their mark on the knife industry, and the Benchmade 580 Barrage is no exception to their top-quality rule. It's a beautiful knife, it's a pragmatic knife.
Like it's compadre the Benchmade 940, it's blend of characteristics make for a superb EDC knife. It's more than capable of tackling anything expected of a smaller knife – and then some. Just another gem in the Benchmade crown so to speak.
Wearing a string of accolades from pocket knife sites and professionals, the Barrage boasts design by Warren Osborne.​ Osborne has proven himself as a talented knife-maker and fortunately for us, was recognized by Benchmade. Released in 2009, the Barrage has certainly made an impression and confidently rose to the company's mantra, "It's not a knife… it's a Benchmade."
Key Specs of the Benchmade 580 Barrage
Blade Length: 3.60″
Blade Material: 154CM
Blade Style: Drop Point
Overall Length: 8.35″
Closed Length: 4.75″
Price Range: $125.00
Our Impressions of the Benchmade Barrage
Like most of Warren Osborne's designs, the Barrage looks great. But it's not a guise for some fatal flaw lying beneath the classy exterior. It really isn't.
The Barrage is high quality and high impact. It has a closed length of 4.75 inches which opens up to a full length of 8.35 inches. Weighing 4.2 ounces, it's a bit on the heavier side if you're wanting it for an EDC knife. But it still falls in the category, and is certainly small enough to be carried all the time. True to its designers reputation, the Barrage is well-balanced and feels great in the hand.
The 3.6 inch blade is fashioned from 154CM steel, which is known as high quality steel. It's very sharp out of the box and hold its edge well. It's also great against corrosion.
The original 580 has a simple drop-point style, but its companion model, the 583 Barrage sports a Tanto design. The drop-point makes for great detail work and is as sturdy as you could ever want.
With Benchmade's ambidextrous Axis-Assist deployment, the blade can be out astoundingly quick with the left or right hand.
The handle is made from Valox which at first can give a fickle feel, but that couldn't be further from the truth. It's sturdy, strong and feels good in the hand.
No cold steel or anything like that. It's lined with stainless steel. There are grooves towards the blade end of the handle which can only be described as a type of jimping.
The ergonomics of the handle are great, and compliment the blade well.​
Optional Barrage Models Available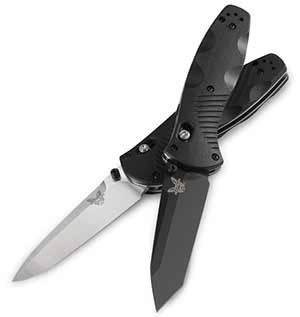 As I mentioned earlier, there a few different models of the Barrage. The Barrage 583 is available if you prefer the tanto blade style over a drop point.
Also available is the Barrage 581, ​it has a dressed up with a G10 handle and aluminum bolsters. Its blade material is the super steel M390. It's a high quality knife, but also quite a bit more expensive than the standard Barrage as you can imagine.
If you're looking to keep it in the family, I would recommend the Benchmade 940. Simply because it's a brilliant knife, and again, superbly designed by Warren Osborne. If you wanted to go with another brand, I'd recommend the Spyderco ParaMilitary 2 which is also a great knife in the same price range.
Final Thoughts on the Benchmade 580 Barrage
Benchmade has again produced a knife that cements their superior standing in the knife industry. With great materials, perfect handling and a look to match – the 580 Barrage is a force to be reckoned with.
Its specs push the boundaries of the EDC knife, but that doesn't mean it won't be perfect to carry around. Deployment is fast and simple, and the drop-point blade is great for detail work. All in all, this is a great pocket knife.​
Pros: Great Osborne design with high quality materials
Cons: Just a little heavy for EDC, also kind of expensive​