Next on the long line of quality pocket knives is the Spyderco Sage 2. An EDC that's as aggressive as it is refined. Spyderco no longer needs to prove their capabilities in the EDC market, yet they consistently release products that tickle knife enthusiasts' fancy. A culmination of great materials and collaboration with top innovator Chris Reeve has produced a knife more than worthy of the Spyderco name and a place among the top EDC knives.
Spyderco Brand Name
As we all know, Spyderco is capable of sculpting great knives. But it's when they collaborate with other top designers that it gets exciting. A little bit about Chris Reeve. Reeve is a multi-award winning knife maker with decades of experience in the industry. He's known for a whole bunch of different innovations like the one-piece knife, a few different locking systems and he even worked to develop the renowned S30V steel we all know and love. Combine Reeve with Spyderco and we're talking serious knives.
Our Impressions of the Sage 2
Like its fellow Spyderco knives, the Sage 2 is a polished looking knife. With an overall length of 7.125 inches folding to 4.188 inches, the Sage 2 is a good EDC size. In fact, when closed, it's slightly smaller than the Delica 4. Like all Spyderco knives it's balanced well and control is great, weighing in at 3.5 ounces. It's neither bulky nor heavy and sits well in the pocket.
Key Specs:
Length Overall: 7.125″
Length Closed: 4.188″
Blade Length: 3″
Blade Steel: CPM S30V
Handle Material: Titanium
Weight: 3.5oz
Price Range: $140.00
The blade is fashioned from CPM S30V steel. As mentioned earlier, it's another thing we can thank Reeve for. Working with Crucible Industries and with input from fellow knife-makers, the S30V steel has gone on to become one of the most trusted in cutlery steels. S30V is a tough steel. It can be extremely sharp, it can hold its edge well and it holds up against more rigorous jobs with ease. The blade's length is 3 inches and runs with the simple Spyderco blade shape. There's also the signature thumbhole which is for the one-handed ambidextrous deployment system.
The Sage 2's handle is made from lightweight titanium held together by three screws. Jimping runs along the spine and choil. To look at, the handle looks kind of slippery. But great ergonomics and finishing mean the handling is not compromised. If you come across a Spyderco that doesn't have great ergonomics then you've probably got a fake. The lock-up is Reeve's Integral Lock and works like a charm.
How Does the Sage Compare
If you want to stick with Spyderco then again I suggest the Delica or Endura models. Both are great EDC knives and the Delica 4 in particular has some great features. Especially with the handle texturing. Some other rivals to the Sage 2 is the Benchmade 940 or even the Barrage. Both companies make great EDC folding knives and are known for it.
Final Thoughts on the Spyderco Sage 2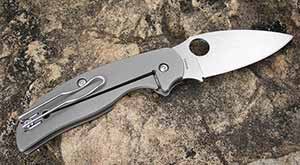 The Spyderco Sage 2 is a monument to design and innovation – and to Chris Reeve. Combine these things and you have a knife able to withstand whatever you demand of an EDC. It has a certain class about it, though it looks quite simple. With the S30V steel blade and titanium handle, the Sage 2 makes for a lightweight yet angry knife which easily slips into the pocket.
Pros: Chris Reeve Design, S30V Steel, Great EDC
Cons: Made in Taiwan, blade steel is American made though